Logan and The Mystical Collar
Winner of the Gold and Silver medals in the 2015 Global EBook Awards!
Kindle e-Book – Color Illustrated
B/W Illustrated Paperback on Amazon.com
Color Illustrated Paperback on Amazon.com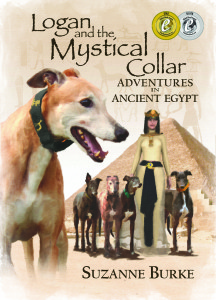 A famous Egyptian queen, a not so ordinary dog, and a bully cross paths to alter the course of history!
After a mystical collar inscribed with hieroglyphics is found in a dusty old antique shop and placed on Logan the greyhound, he is launched into an exciting time travel adventure to Ancient Egypt. There, Logan meets up with a very familiar cast of characters, only he can't figure out why they don't know him. His curiosity lands him in a place where there are secrets he must guard or risk being killed!
In this heroic adventure, there are mysteries, clues, suspense, and the Great Race between Logan and his nemesis, Zeus! A race that proves to be more significant than either expect, and ultimately leads to events that change the course of ancient history.
Written in a timeless style, if you like Indiana Jones, King Arthur, The Wizard of Oz, or anything Cleopatra, you'll love this adventure story set in fascinating Ancient Egypt!
Ages 8 to adult
Illustrated, 132 pages
*Includes history chapters on Ancient Egypt and educational projects for children to expand their critical thinking and creative writing skills, and vocabulary. Deals with the sensitive topic of bullying.
Beautifully Illustrated!