Logan's Secret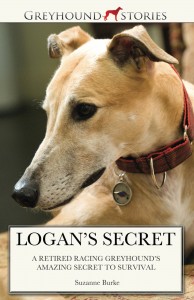 Barnes and Noble.com – 2nd Edition
Kindle – 1st Edition
*Signed/Pawtographed copies available, please email contact below.
Logan's Secret
2nd Edition – Expanded to include greyhound history, facts, and additional illustrations!
Logan, the champion racing greyhound is at the top of his game. Today, he is at the racing start gate, the race begins, he takes off and gains an expert lead, but events take an unexpected turn and his life changes forever!
Follow Logan on his adventurous journey as he makes a decision that launches him into a world of uncertainty and challenge. Discover the secrets he uses that help him achieve his life dream!
Logan's Secret will teach children important values about life, and to think positively no matter what challenges they face. If you believe in yourself, you can accomplish anything!
Over twenty pages of expanded content! Read the rich history about the greyhound and learn more about this unique breed of dog. Includes additional illustrations and photographs.
Ages 7 and up
Excellent first chapter book!
Contains educational projects at the end for children to expand their vocabulary, critical thinking skills, and creative writing skills.
Illustrated, 114 pages
Photography by Shawn Fernandez and John Hudson
"A rare find that is not just a children's story, but a story to be shared with the entire family – a book for all ages"
– Susie and John McQuade, Co-founders, Greyhound Adoption League of Texas 
See Readers' Comments from Amazon.com:
"I am 7 years old and I LOVED this book!!! I couldn't stop reading it until I was finished! It was AWESOME. I learned a lot about dog racing and animal rescue. It is hard to find shorter chapter books that have pictures like this one."
"Logan's Secret was adventurous. It was so good that I read it with my little sisters again and again. I liked the pictures! Logan was a hero for himself and for us, too. I would recommend it to both kids and adults. It was great! I can't wait to read about the rest of the greyhound adventures in Logan's series of books!!!"
"Logan (aka Rapido USA, Sam) teaches us the lessons of positive thinking and how to grow by stepping outside of our comfort zone. His brave journey takes us through the highs and lows that life can bring to all of us. Logan also teaches us that we make our own decisions on whether to be happy or sad and that we can either choose to accept what life dishes out to us, or make the decision to change it. Ms. Burke (and Logan) do an excellent job in presenting us a story that is easy for anyone (young or old) to understand and enjoy. I'm looking forward to more tales."
"A wonderful story that you don't want to end. A must read for all who are graced to live with a Greyhound. Written from Logan's point of view which captures your attention and your love."
"The fact that this well-written heartfelt real-life story is written from Logan the greyhound's point of view makes it all the better. Logan's Secret left me wanting to know more of Logan's life and adventures—-looking forward to volume two! I will be sending 'Logan's Secret' to family and friends."
"Many modern movies are written this way today, just like "Shrek" where there are two levels, one for kids, and one for adults. I urge you to read this to your kids….they will love it, and you will too!"
"Tenderly written with emotion, you a cheering Logan on throughout the story. It's a page turner! Had to finish it once I opened it!"
"As a greyhound rescuer,I was touched by the message in Logan's Secret. In just a few pages and with elegance, the tough life of a racing greyhound is told, as well as a profound message of hope and perseverance for all of us who face troubled times. I also enjoyed the beautiful photos and illustrations. A must have book for any dog lover!"
***Look for additional stories about Logan and other greyhounds designed to help a child and adult look at life in a unique way.